Thursday, March 15, 2012
REVISIONING DETROIT'S MICHIGAN CENTRAL DEPOT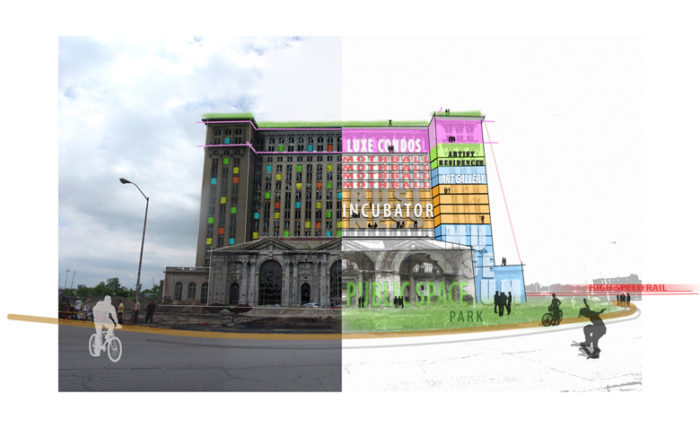 Anti-History. The discourse surrounding the Michigan Central Depot (MCD) is epic. Everyone has an opinion, and many opinions are charged with personal history, political dogma, or impulsive judgment.  This post does not attempt to chronicle the saga and thereby continue the allegations.  Rather, this post proposes to erase the associated drama and begin anew with the existing structure and current conditions.  Can we move beyond the MCD's existing identity and all associated issues that continue to plague the MCD?  What could truly be done with this massive structure?   What is possible?
Momentum. Over the years, numerous proposals have floated through the Detroit ether: Homeland Security Offices, Business Center, Detroit Police Department Headquarters, Hotel/Casino.  None of these proposals have landed, none have gained momentum.  On a community level, the Greater Corktown Development Corporation and eighteen Earhart Middle School students developed MCD programming ideas through multiple design charrettes.   These creative programming solutions were summarized in powerpoint and then formally presented to the Detroit City Council.    A small band of renegades (Phillip Cooley, uRbanDetail, Tad Heidgerken, and others) have designed a Roosevelt Park Masterplan and slowly implemented the initial phases. Their landscape urbanism strategies have encouraged the MCD owner to clean up the structure's forecourt and plant perennials along the front façade.  Mainstream recognition includes multiple music videos (Kid Rock, Eminem), wedding party photos, documentaries, and movies (Transformers, The Island, 8 Mile, 4 Brothers) using the MCD as a backdrop and/or stage.  This combination of community, renegade, and mainstream momentum results in a uniquely creative discourse, and perhaps a new found urbanism, Detroit-style.
We are not alone. Through travels, research, and consequent discussions, we have formulated an initial project precedent list.  Similar in size, scope, and drama to the MCD, these once abandoned train stations have played a major role in the rejuvenation of other post-industrial cities.  We do not suggest that this list defines all programming possibilities.  More importantly, we cannot simply copy and then paste these solutions onto the MCD canvas.  Such applications would not effectively solve the MCD problem.  However, this list contains hope.  Hope in the knowledge that the MCD is not a unique problem.  Hope in the understanding of these multiple successful, applicable precedents.  We can find comfort in the fact that the MCD (and Detroit) is not alone.
Insert your program here. All of these precedents provide a specific solution tailored to their unique set of circumstances.  However when reviewed en masse, these precedents provide foreshadowing to a possible MCD solution.  These successful programmatic solutions share similar intrinsic characteristics:
Multi functional (combination of entertainment, retail, institutional, etc…)
Multi temporal programmatic elements (daytime, nighttime, and 24 hour uses)
Creative business plan
Phased renovation process
Embraced the historic (and sometimes ruinous) qualities of the building
Combination of public and private funding
Creation of new identity
Other cities, neighborhoods, businesses, institutions and concerned citizens have successfully solved similar problems of re-imagining magnificently oversized, abandoned train stations. Creative, multi-disciplinary discourse is the first step towards a Detroit-appropriate solution for the MCD.
Cincinnati Museum Center @ Union Terminal.  Originally Cincinnati Union Terminal, the Cincinatti Museum Center Complex (CMC Complex) at Union Terminal is a multi-functional facility the includes various programmatic elements:  passenger railroad station, museums, theaters, and a library.   Much like the MCD, the Cincinnati Union Terminal lay empty for decades.   In May 1986, the voters of Hamilton County Ohio passed a bond levy to save the terminal from destruction and transform the facility into the CMC Complex.  The CMC Complex opened in 1990 and now provides a home to six organizations:
Union Terminal
Cincinnati History Museum
Museum of Natural History & Science
Robert D Lindner Family Omnimax Theater
Cincinnati Historical Society Library
Duke Energy Children's Museum
The renovations also allowed Amtrak to restore service to Union Terminal. Most recently, an additional $120 million has been procured for the renovation of the previously moth-balled portions of the CMC Complex.  The first phase of these current renovations will report existing damage to these quarantined areas, prioritize renovations in accordance to found damage, and begin renovation of designated areas.
According to one report by the Economics Center for Education and Research, an estimated 1,359,200 people visited the CMC Complex between 2007-2008.  Of these people, an estimated 307,597 were designated as out of region visitors.
Pennsylvanian Union Train Station.  Designed by Chicago architect Daniel Burnham, The Pennsylvanian Union Train Station is a wonderful example of early 20th century architecture.  Located at Grant Street and Liberty in downtown Pittsburgh, the building is listed on the National Register of Historic Places.  In 1987, the Pennsylvanian Union Station underwent a massive renovation. Previously programmed as an office tower, the upper floors now serve as a 12-story luxury condominium building, with the first floor serving as a rentable special events space.  Amtrak still runs trains out of the basement of this structure.
Buffalo Central Terminal.  The 17-story Art Deco style station was designed by architects Fellheimer & Wagner for the New York Central Railroad. After years of abandonment, the complex was in derelict condition.  Further, the building was never secured properly; vandalism was extensive.
In 1997, the building was purchased for $1 by Scott Field of the Preservation Coalition of Erie County.  Shortly thereafter, the Central Terminal Restoration Corporation (CTRC) was formed and now legally owns the Concourse, Tower and Baggage Building.  The CTRC is a non-profit, volunteer organization whose goal is to preserve the Terminal and help promote the complex as a viable redevelopment opportunity in the City of Buffalo.   Initially, The CTRC received money to restore and relight the exterior tower clocks.  In 1999, a $1 million state grant initiated the process of sealing and protecting the complex.  In 2003, the building was re-opened for public tours.
Currently, the Buffalo Central Terminal is host to approximately twenty major fundraising events each year. Work continues to progress and new areas of the building are cleaned and reopened to the public each year. Since 2003 over 70,000 people have visited the building.  The building has been a host to tours, temporary art installations, local political events, train shows, an annual Oktoberfest, and weddings.  In cooperation with local, state, and federal government representatives, The CTRC is working to position the Terminal to be Buffalo's high speed rail station.
Union Station Kansas City.  Built in 1914, Union Station Kansas City encompasses 850,000 square feet.  Officially closed in the 1980s, the Station sat empty and neglected, barely escaping demolition on several occasions. In 1996, an historic bi-state initiative was passed to fund the Station's renovation.  Renovation was completed in 1999 and soon thereafter the new Union Station Kansas City opened to the public.
As stated by The Kansas City Museums of History and Science, their vision for the Union Station Kansas City "shall be recognized as the region's finest educational and cultural resource committed to the preservation and interpretation of Kansas City's regional history and the promotion of innovation, research and discovery in science and technology through the development of collections, exhibitions and other educational programs for all citizens of and visitors to the Greater Kansas City metropolitan area."
Additional Train Station Examples:
St Louis Union Station
Nashville Union Station
Ogden Union Station
Springfield Union Station
Indianapolis Union Station
Dallas Union Station

Additional Roosevelt Park Links:
http://www.modeldmedia.com/developmentnews/roosevelt19509.aspx
http://www.detnews.com/article/20090702/ENT01/907020315/1409/METRO
http://criticaldetroit.org/roosevelt-park-citizen-improvements/
Additional Michigan Central Depot Links:
http://www.forgottendetroit.com/mcs/index.html
http://www.ericsmith.us/#a=0&at=0&mi=2&pt=1&pi=10000&s=0&p=0
http://en.wikipedia.org/wiki/Michigan_Central_Station
http://www.forgottendetroit.com/mcs/photos.html
http://www.npr.org/blogs/pictureshow/2009/06/trains.html
http://www.sweet-juniper.com/2008_04_01_archive.html