Saturday, December 5, 2009
HAA RESEARCH \ CONSOLIDATING DETROIT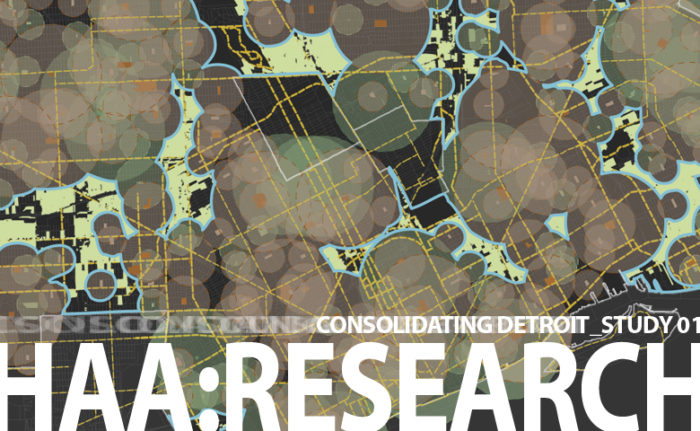 CIRCUMSTANCE.  Since the 1950's Detroit's population has been on the decline.  As the city expanded outward and fulfilled mid-century aspirations for suburban life and unencumbered industrial development, the overall population began dropping from its 1,850,000 peak.  Exacerbated by the combination of seemingly benevolent post-war policies such as the 1944 Serviceman's Readjustment Act (GI Bill) which guaranteed low interest mortgages to returning veterans, Title One of the 1949 Federal Housing Act and the Federal-Aid Highway Act of 1956, those who were not fully incentivized to leave the city were in some cases dispossessed or ghettoized.
Vital communities broke down, functional public transportation fell into disrepair and ignorant, racially motivated segregation beseeched the city, making day to day life in Detroit quite inhospitable, promoting a sharp increase in migration to the suburbs.  At the same time, larger structural economic problems, such as an abiding faith in a Fordist economic model and a dominant one-dimensional industry, took their toll.  By the late 1960's the population had fallen to 1,500,000 (while the 7-county region had grown to nearly 4,500,000) and in the late summer of 1967, the infamous riots engulfed parts of the city.  With this, many who had not yet left the city did so – if they had the means and opportunity.  (link to time line flash)
Over the final three decades of the 20th century Detroit maintained a steady population and employment decline as disinvestment, poor quality of life and limited services made a significant impact.  Now, with the economic recession that has come to define the early years of the 21st century, Detroit's population loss and disinvestment have accelerated (along with several other communities in southeast Michigan, highlighting the regional dimension to these pernicious problems).
Today the City of Detroit's population is estimated around 800,000.  This is less than half of its peak population 60 years earlier.  According to the American Institute of Architect's 2008 Sustainable Design Assessment Team Report, nearly 40 of Detroit's 139 square miles of land area remain vacant along with 30,000 to 50,000 buildings throughout the city.  Most recently, the Detroit Public Schools announced the closure of 23 schools as the city grapples with mounting budget problems.
CALL TO ACTION.  As we stand at this existential precipice in Detroit's history we all must contribute to strategies that will stabilize and improve life in the city.  From policy initiatives, to reinvestment and development strategies, we need more voices and more action to help not only the city, but the entire region.  At HAA, we believe this includes architects, planners, urban designers, landscape architects and the broad, vibrant (and incredibly resilient) creative community that is alive and well in Detroit.  This group, perhaps more so than any other, will be equipped to translate the myriad ideas, emotions, speeches and pro-forma into viable physical strategies that are imbued with innovative, critical and creative thought.
RESEARCH, DIALOGUE AND RECOMMENDATION.  One of the most direct ways for these strategies to take shape is by mapping and analyzing the geographic, spatial and experiential facets of the city as they relate to key aspects of population density, services and quality of life.  By researching these data, both contemporarily and historically, we can develop a more comprehensive physical understanding of how the city's size (and conception of itself) may be adjusted to align with its population and needs, as well as corresponding strategies to regain vital economic and creative facets that are endemic to true city life.
This approach as a concept is nothing new.  Many creative professionals, academics and governmental agencies have tirelessly contributed to similar efforts over several decades, creating substantive bodies of data.  Rather than recreate such data, HAA plans to also participate in this important dialogue by reviewing and analyzing existing, freely available governmental and institutional data from groups such as the United States Census Bureau, Department of Housing and Urban Development, City of Detroit, Detroit Department of Transportation, Transit Riders United, Southeastern Michigan Council of Goverments and many others.
HAA will not only collect and analyze these data as discrete objects, but we will overlay them and compare their findings to develop a more comprehensive and nuanced set of conclusions and potential recommendations.  Below is one example of our process that will evolve over the next year.
STUDY 01 – "LEFTOVERS" – THE UNLIKELY URBAN RESOURCE.  As a cursory exercise to illustrate our approach, we have combined pre-existing land, housing and industrial vacancy data with current foreclosure auction sites, public, charter and private school locations and existing woodlands and parks to identify areas that may provide compelling starting points for land consolidation and repurposing.  (link to map flash)
In this case, we begin to see areas with established, noteworthy lower-density that coincide with areas beyond walking distance to schools and other resources.  In many of these vacant blocks, there may be only a handful of occupied homes making meaningful communities difficult to establish, diminishing quality of life and safety, while also necessitating infrastructure and public service well beyond their corresponding tax revenue and city's ability to fulfill those services.  In many instances these areas define a space best termed as "leftover" and they are adjacent to areas that had been fairly vibrant prior to the recent recession.  In those areas, foreclosures are numerous and have grown over the last three years creating a relatively new abundance of vacancies.
While neither of these conditions on their own are positive, when combined they may begin to form a complementary relationship where those who currently live in extreme low-density areas could have an opportunity to move to areas nearby with more substantial housing stock, where only recent foreclosures have made many properties available at drastically lower costs.  Rather than advocating for some sort of eminent domain, we feel, if given the opportunity and information, residents will naturally migrate to safer, more socially connected neighborhoods.  Most importantly, as they migrate to these areas they will actually save their new communities from the same fate as their old one and the "leftover" space they leave behind can become a new urban resource directly adjacent to their new home.
While the cost of accomplishing this voluntary migration may be significant, and supplementary financial resources (local, state, federal) must be identified, the overall cost may be far less for the city than doing nothing at all.
If feasible, the reality of this transformation, and the resulting urban resource, could take on several forms.  Below, we have begun identifying a handful of ideas that may have merit – many of which are already being considered throughout the city and region (link to lifestyle images):
Indigenous Woodland – Return the land to its original state by actively developing woodland areas with indigenous and environmentally beneficial plant species.  Existing city services to these areas could be reduced and sections of the woodland could be established as supportive nurseries for city and regional use.
Energy Resource – Convert the land into discrete areas of switchgrass or other biofuel plants.  In a recent lectureHAA Lars Grabner, Lecturer in Architecture at the University of Michigan, outlined several ways in which similarly repurposed land could be utilized for biomass development and energy.  Similar to the grasses that once populated the vast plains, these hearty plants can be harvested using standard farm equipment and utilized on-site for efficient energy generation.
City Garden – Transform the community garden into a true city-wide asset, providing food and opportunities for learning and participation.  Here, the scale of production can meet substantial production needs, while its proximity to existing communities would allow for neighborhood involvement and "ownership."
Living Circuit – Not unlike Boston's "Emerald Necklace" park system, designed by Fredrick Law Olmsted, a beltway park system could become "lungs of the city" and provide a pastoral and bucolic sanctuary for recreation and relaxation.  It could also incorporate aspects of the previous three strategies, creating functioning destination program.  This meandering circuit could also be linked with existing parks, the Rouge River and existing greenway strategies to create 27 mile system that provides advantageous adjacencies to many existing communities and connects at either end to the Detroit River.
MOVING FORWARD.  Over the next year HAA will conduct a preliminary research project to consider ways in which the City of Detroit may reconcile its overall land area, as well as investment and development strategies, with its current population and needs.
As a firm, whose work and identity are inextricably linked to the City of Detroit and the exigencies of urban life, HAA looks forward to working collaboratively with many others to help our city return to a level of vitality, quality and creativity that seem to have only existed in dreams to many of us.  In many ways, our burgeoning creative initiatives, such as this blog and our lecture series, are the earliest examples of our efforts to contribute to the positive, productive and creative dialogue in the City of Detroit, beyond what one might describe as conventional practice.
Throughout this research project we plan to provide updates on our evolving work that we hope will include voices beyond our own.  We are unsure where our research may take us, but we are confident that if we do not begin the journey we will have not contributed to the dialogue as we should.
Additional resources for this post:
U.S. Census Bureau – Demographic Trends in the 20th Century
Time Magazine – Michigan: Decline in Detroit (October, 1961)
SEMCOG – Historical Population and Employment by Minor Civil Division, Southeast Michigan
Wayne State University – Detroit Population Density: 1950 – 2000
June Manning Thomas – Redevelopment and Race: Planning a Finer Postwar Detroit
Thomas Sugrue – The Origins of the Urban Crisis: Race and Inequality in Postwar Detroit
Gwendolyn Wright – USA: Modern Architectures in History
John Gallagher – Detroit Free Press – Detroit's fight against vacant land gets tougher
Oakridge National Laboratory – Bioenergy Feedstock Development Program