Thursday, September 27, 2012
archiCULTURAL SHIFT Panel Discussion + Exhibition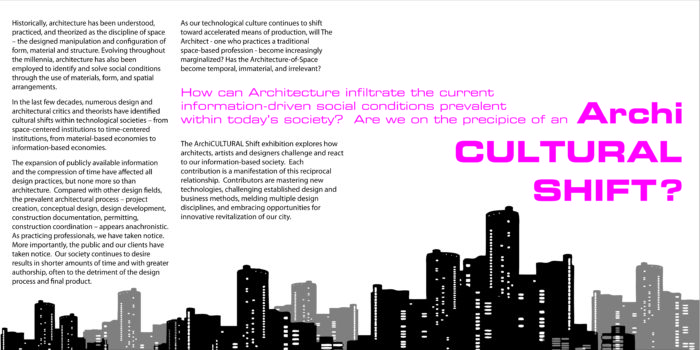 Last weekend, rogueHAA was pleased to present The archiCULTURAL SHIFT, the last panel discussion in its Provocations: Challenging Detroit's Design Discourse series. Held in the MIES Storefront at Lafayette Park, this event was part of the Detroit Creative Corridor Center's Detroit Design Festival 2012.  ArchiCULTURAL panelists discussed how their roles, theories, and work have been affected by our society becoming increasingly information and time-centric. We would like to thank our panelists for their expertise and participation in this event:
The discussion was complemented by an incredible exhibition of works relating to the theme of designing in and for our information-driven society.  The following firms, designers and architects contributed to the ArchiCULTURAL SHIFT Exhibition:
Over 400 people walked through the gallery or attended the panel discussion.  Thank you all for making this architectural event a great success!