Thursday, April 5, 2012
URBAN FUTURES — "PROVOCATIONS : Challenging Detroit's Design Discourse"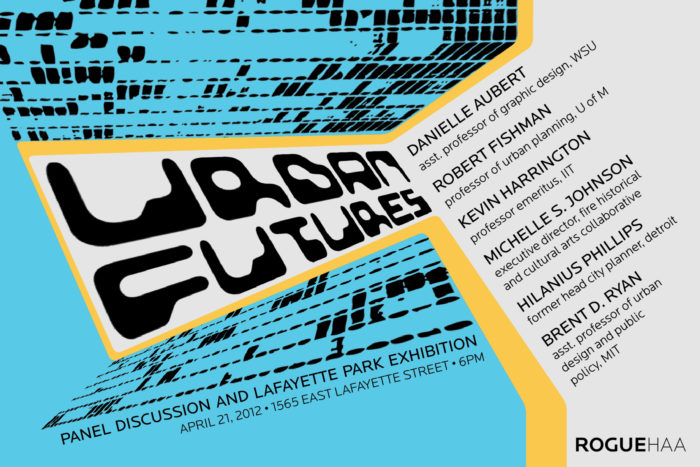 rogueHAA is pleased to announce the next event in its 2011-2012 panel discussion series: "Provocations: Challenging Detroit's Design Discourse"
"URBAN FUTURES"
April 21, 2012
Panel Discussion: 6pm-8pm
Reception to follow: 8pm-9pm
Lafayette Park Retail
1565 East Lafayette, Detroit
URBAN FUTURES will explore the role of large scale urban visions, and consequent realities, in post-industrial cities. The legacy of Modernist urban renewal projects is largely a story of failed aspiration, economic rationalization and displaced populations. Yet despite the controversy surrounding its implementation, Detroit's  Lafayette Park development has achieved many of the goals of Modernist planning and urban renewal, creating arguably one of the most vibrant and diverse neighborhoods in the city. Does this speak to the unique conditions of Detroit? Does Detroit offer similar opportunities for avant- garde planning and large scale urban interventions today? What successes and sacrifices accompany the Modernist social agenda, and are there lessons to be learned as we seek to engage in equitable and sustainable redevelopment here and in other post-industrial cities? 
URBAN FUTURES brings together six distinguished professionals to expound upon these difficult questions:

Danielle Aubert – WSU Professor of Graphic Design
Robert Fishman – U of M Professor of Urban Planning
Kevin Harrington – Professor of architectural History, IIT
Michelle S. Johnson – Historian/Civil Rights Consultant
Hilanius Phillips – Former head city planner, Detroit
Brent D Ryan – Assistant Professor of Urban Design and Public Policy, MIT
Jamie Witherspoon – Moderator, rogueHAA
The panel is part of an exhibition co-curated by The University of Detroit Mercy School of Architecture (UDMSOA), Lawrence Technological University (LTU), and Wayne State University in conjunction RogueHAA, Preservation Detroit, and The Art Deco Society, surrounding the history and present of Detroit's Lafayette Park.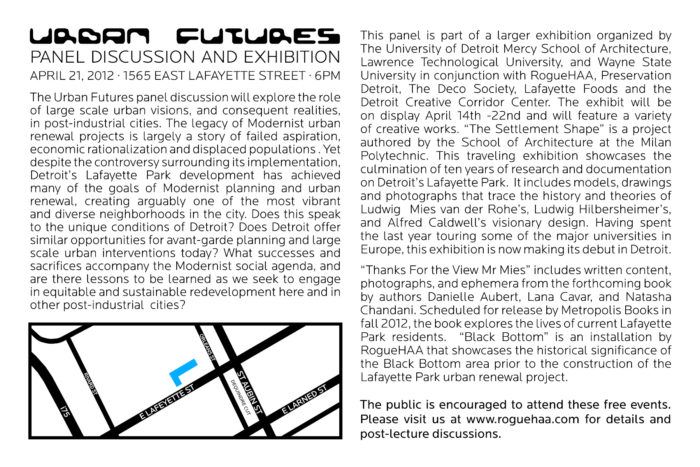 The School of Architecture at the Milan Polytechnic has authored this exhibition that showcases the culmination of ten years of research and documentation on Detroit's Lafayette Park.  The exhibition, entitled "The Settlement Shape", utilizes models, drawings and photographs to trace the history and theories of Ludwig Mies van der Rohe's, Ludwig Hilbersheimer's, and Alfred Caldwell's visionary design.  Having spent the last year touring some of the major universities in Europe, this exhibition is now prepared to make its American debut in Detroit.  For additional information on this exhibition, refer to the previous post, INSIDE LAFAYETTE PARK.
To help make this week-long pop-up exhibition event a success, we urge you to help tell our story and spread the word.  You can also find individual event specifics on our facebook page:
As always, this event is open and free to the public.  rogueHAA would like to formally thank Lafayette Foods for their contributions towards this event.  Without the donation of their storefront, this event would not be possible.