Friday, May 15, 2009
DETROIT STOREFRONT PT. 2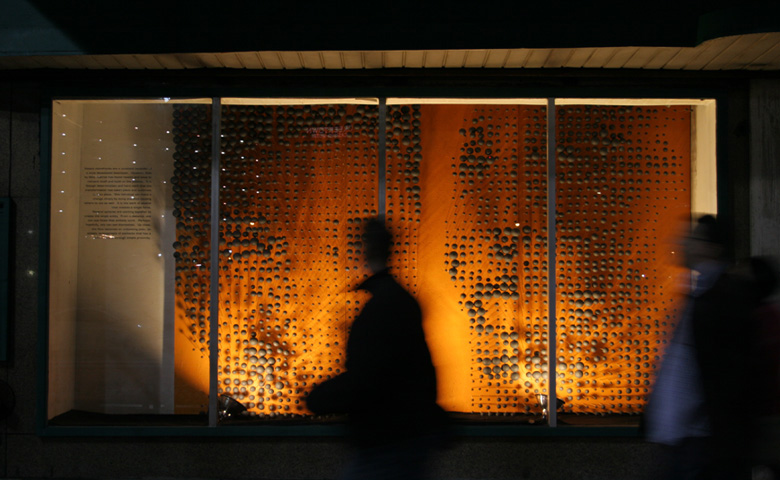 POSITION.  Participation in the Detroit Storefront Design Competition (DSDC) has provoked a series of questions regarding the existing urban conditions in the downtown area, and creative ways to stimulate activity that may plot a course toward significant redevelopment in the city core. Acknowledging both the current economic recession and Detroit's past difficulties in renovating, occupying, and activating its downtown buildings, we are interested in how seemingly small-scale interventions may be used as interim devices to activate downtown streets and buildings.
QUESTIONS.  Could similar storefront concepts become the high impact and low cost, dynamic interventions necessary for this process?  What type of program or content could maximize the impact of these comparatively small and static venues on the downtown visitors, workers, residents, restaurants and retailers? How can these storefront interventions be organized and implemented to capitalize on existing downtown destination events, such as sports and entertainment, while providing day to day places of interest that engage a broad audience for extended periods of time?  Finally, could these interventions become larger scale urban strategies that lead to further renovation and redevelopment of vacant buildings throughout the downtown area?
DYNAMIC INTERVENTIONS. There are several challenges to the occupation and renovation of downtown buildings. Currently, there is little capital to fund full scale building improvements or cover operating costs, and the downtown marketplace for retail is extremely limited. Additionally, a majority of these buildings have significant life-safety and code related issues to overcome.  These issues are complex and financially consuming, however, smaller spaces such as storefronts could be introduced for smaller investment and risk, making the proposition inherently less difficult.
Still, these proposed interventions would require adequate financial subsidy from both public and private sources. In a similar funding strategy, a current College for Creative Studies initiative obtained funding from the Skillman, JP Morgan, and Kresge Foundations and seeks to develop both community and public art in Detroit communities.  It also strives to provide meaningful art to the community, and engage youth in multiple, community-oriented art programs.  In the case of the storefronts, the opportunity to involve local artists, entrepreneurs, and foundations would limit costs and generate local economic investment.
One could imagine that within a district of abandoned structures, temporary and entrepreneurial venues could perform in any number of functions. These could serve as spaces try out new ideas and cultural experiences. Artists could be commissioned to create further public interventions in parks, and streets could be activated by musicians and street acts.  The storefront could become voyeuristic, theatric, subdued, active, and at times, provoking. A place where people could walk the streets of downtown Detroit to simply experience it, not unlike Baudelaire's <em>flaneur</em> of the late 19th century, the street/ storefront hybrid space could produce scenes of a vibrant urban landscape.
As an example of an ideal scale of these interventions, The Storefront for Art and Architecture  in New York City hosts gallery events in an intimate storefront that permeates into the street.   It is dynamic and engaging in its design, and its function is made all the more interesting by its diminutive size.  The historical influence and attraction of the storefront is unchanged by modern times. Selfridges in London, Macy's in New York, and many others continue to attract visitors to their dynamic storefronts. This proposal merely utilizes the Detroit storefronts as catalysts for civic engagement rather than a prelude to consumption.
URBAN STRATEGIES.  In a time when Detroit and its development community have neither the capital nor the identified demand for significant building renovations, guerilla tactics may be effective. They can be a starting point for increasing market demand and, in turn, investment.  Furthermore, as people become more engaged with the storefronts they will:
activate the street
create foot traffic for adjacent retailers and restaurants
begin to develop cognitive maps of downtown via the interventions
become more comfortable, familiar, and empowered with navigating the city
take advantage of all that the city has to offer
understand how design and art complement urban spaces
Detroit requires the ability to attract and engage people for greater periods of time and as a supplement to, (or in conjunction with) the many existing downtown destination events. Unfortunately, the infrequency and irregularity of these events causes spans of inactivity. The use of artists, spectacles, temporary venues, and cultural incubators would greatly increase the participation and activation of the day to day urban experience.  Artprize, an organization in Grand Rapids, Michigan, provides an excellent example of an urban art strategy. It is currently hosting an art competition, in which artists can install anything of their choosing, anywhere in the downtown area. The city is the gallery. The goal of this is to engage the public in a dialogue about art and its relationship to the city, and it is legitimized by a $250,000 first prize. This example of a broad urban art strategy provides people with the pretext of to (re)engage the city.
The goals are simple, activate the street, encourage investment, and create a place worth staying around for.  The storefront may be the perfect scale with which to begin.